Petite Prosette In-the-Mail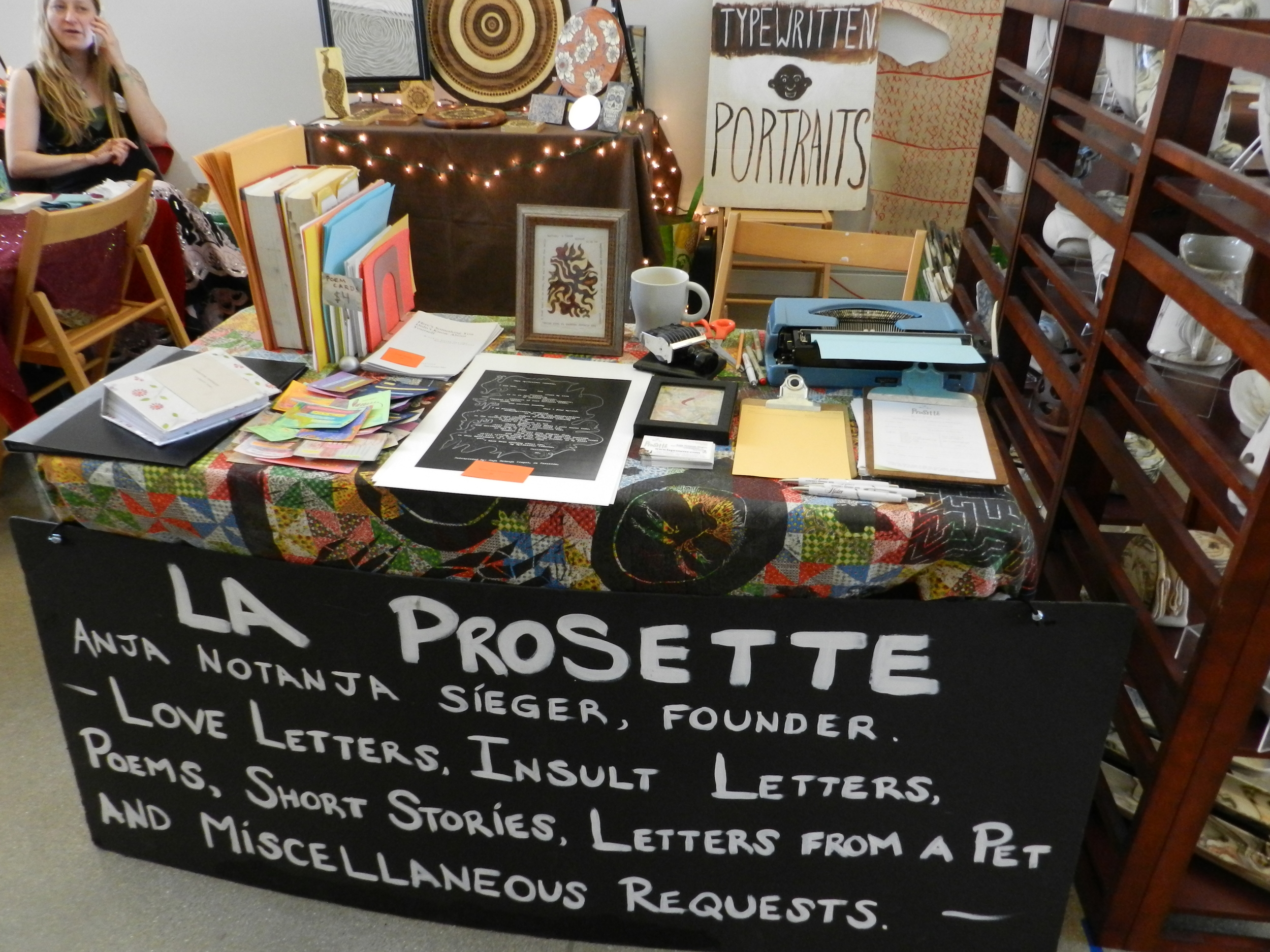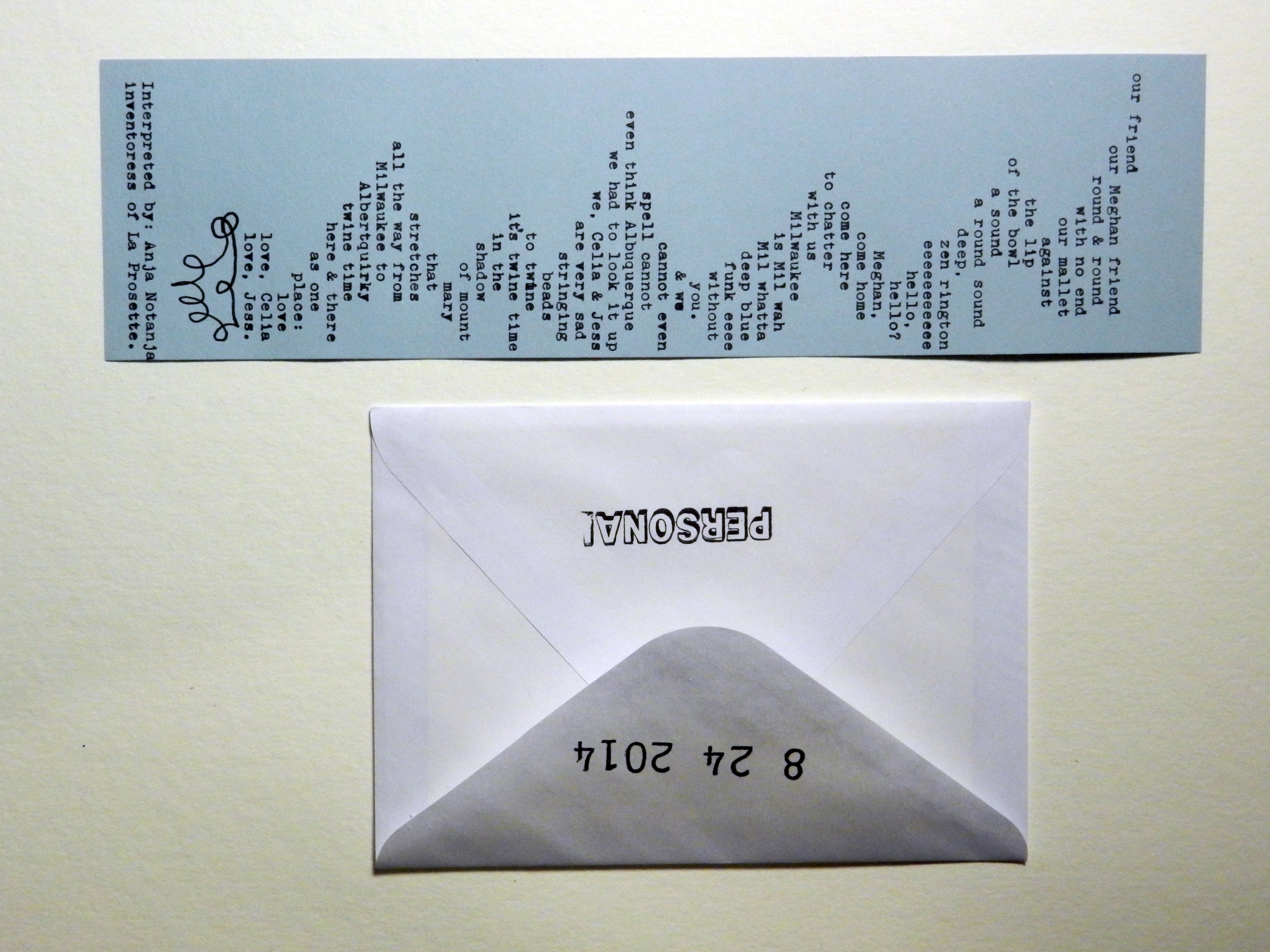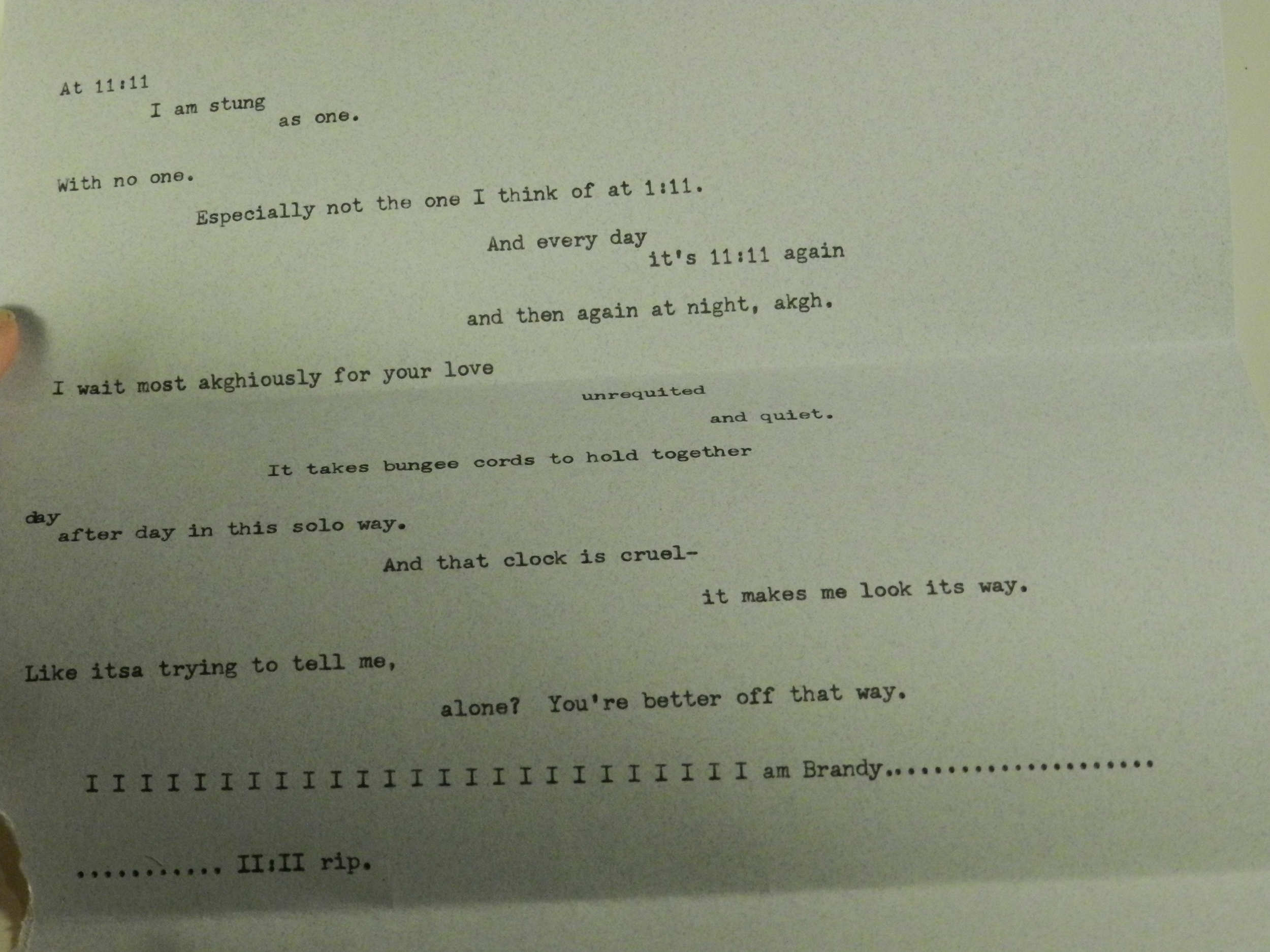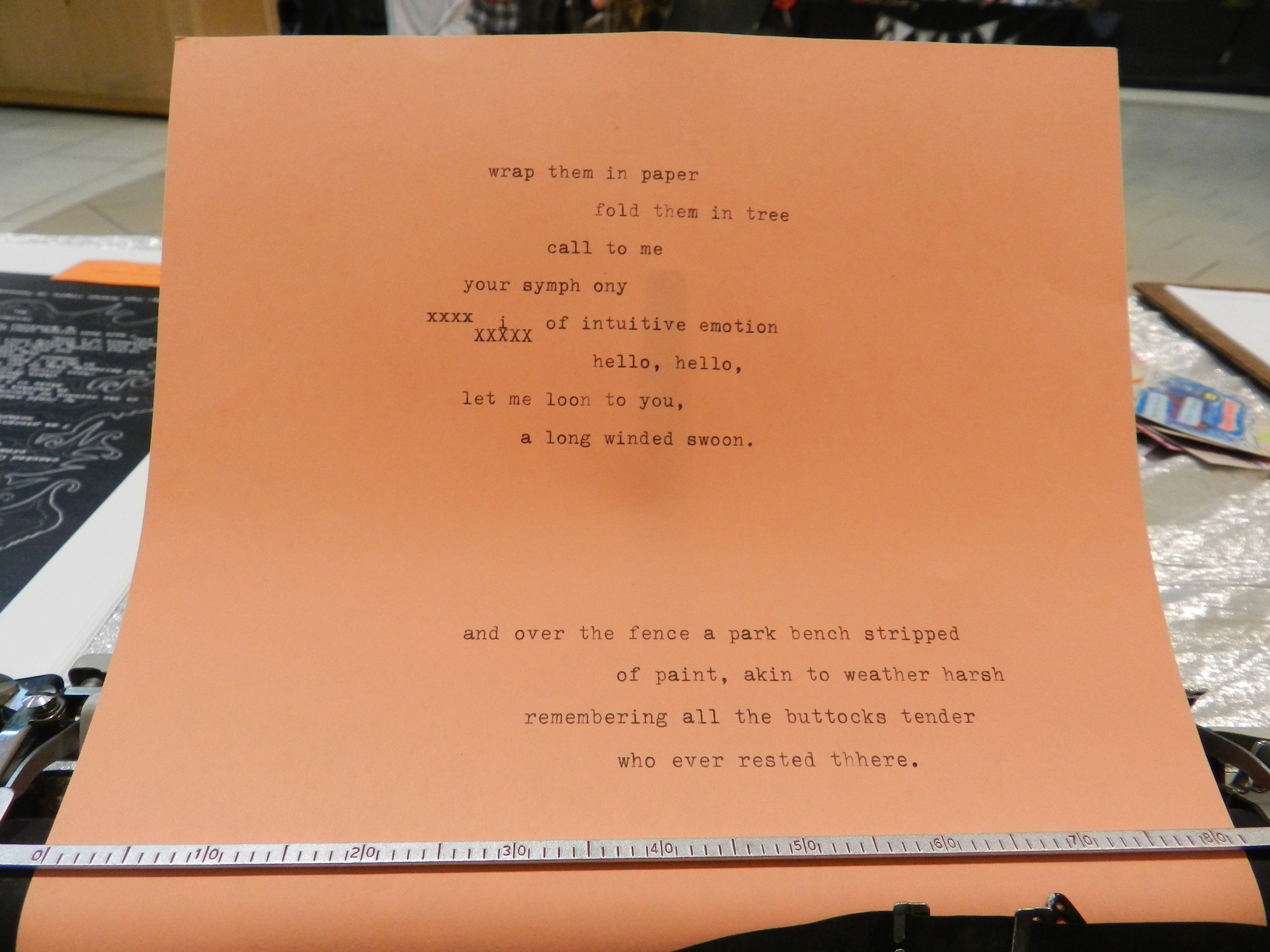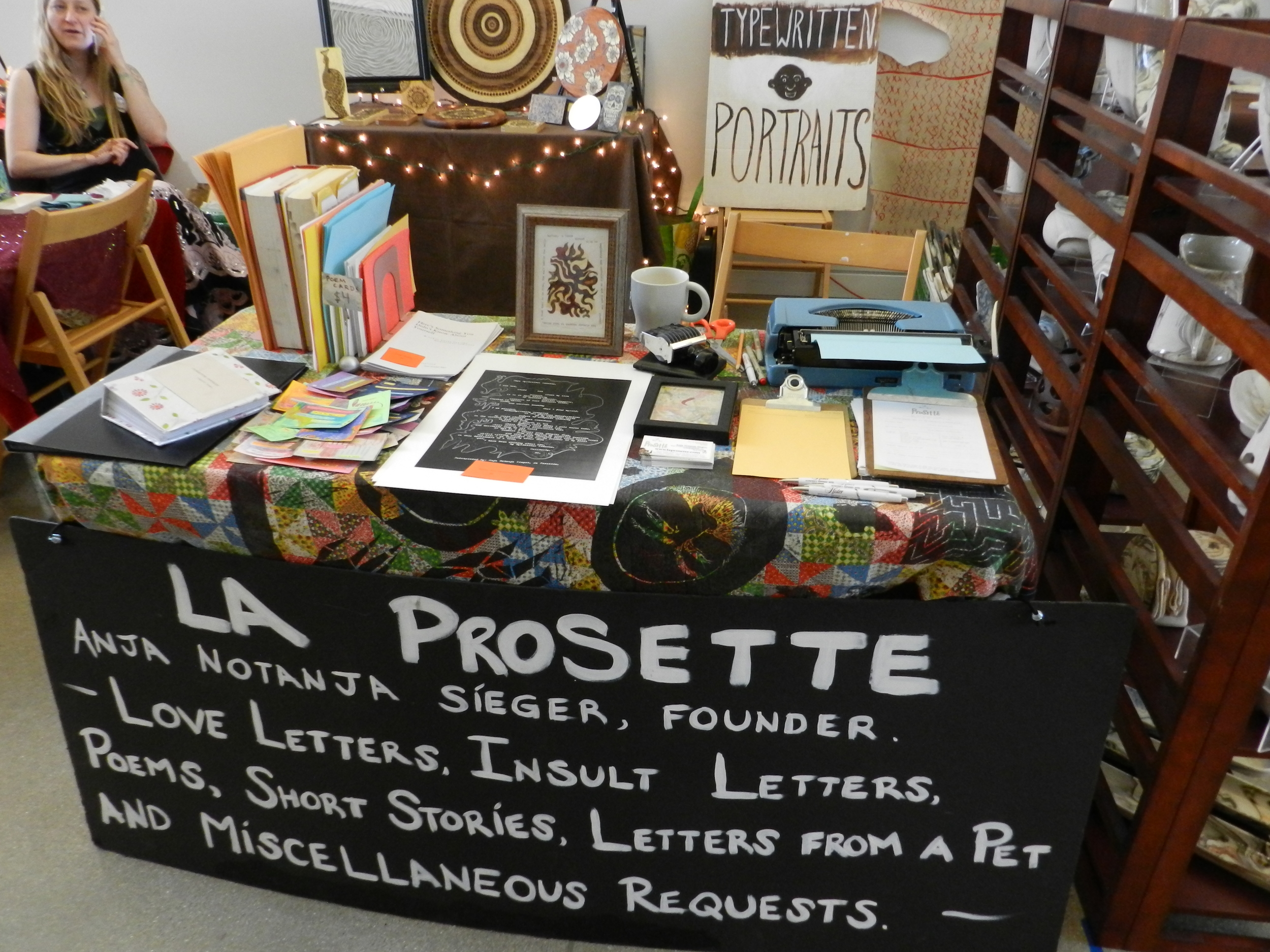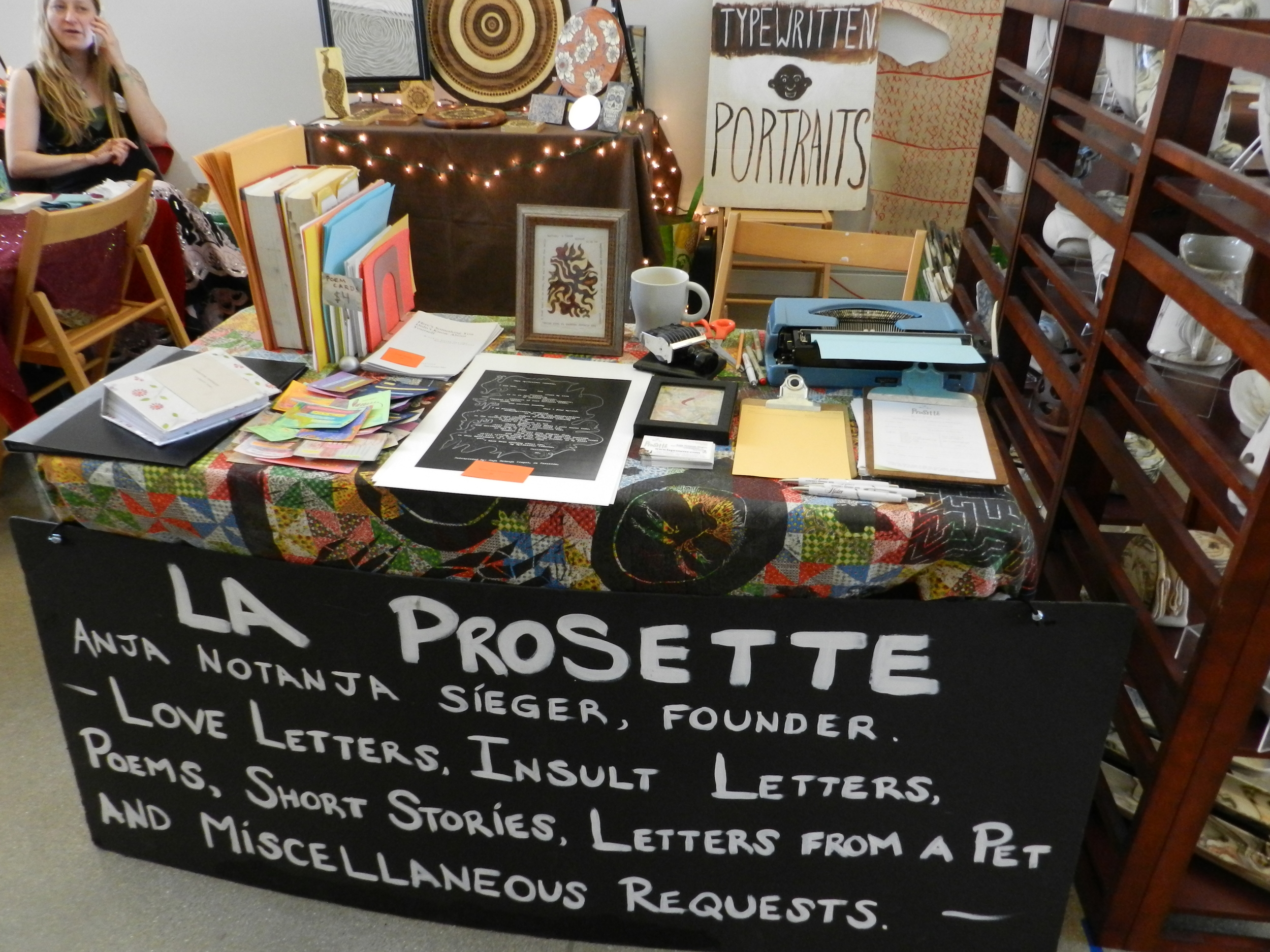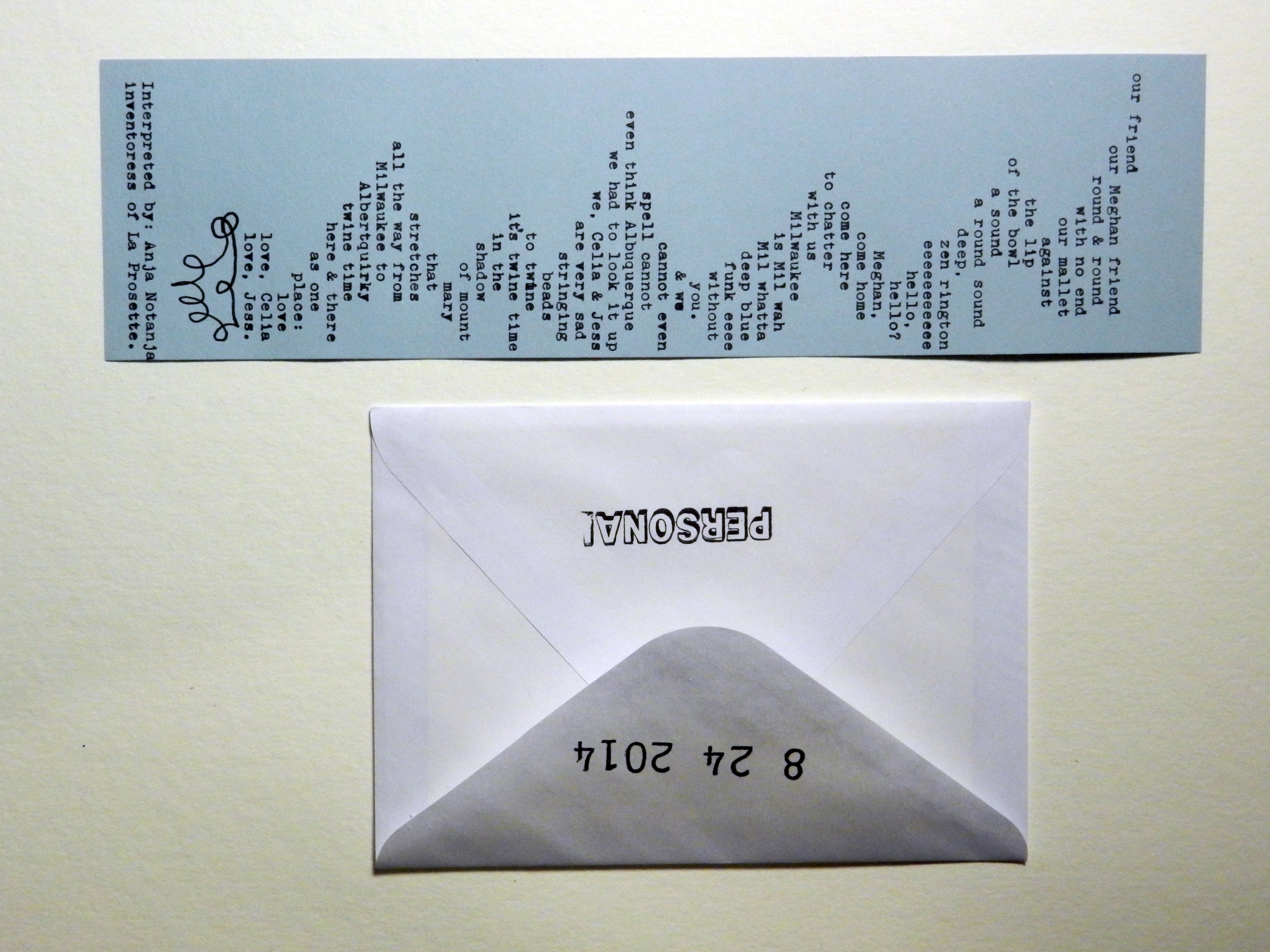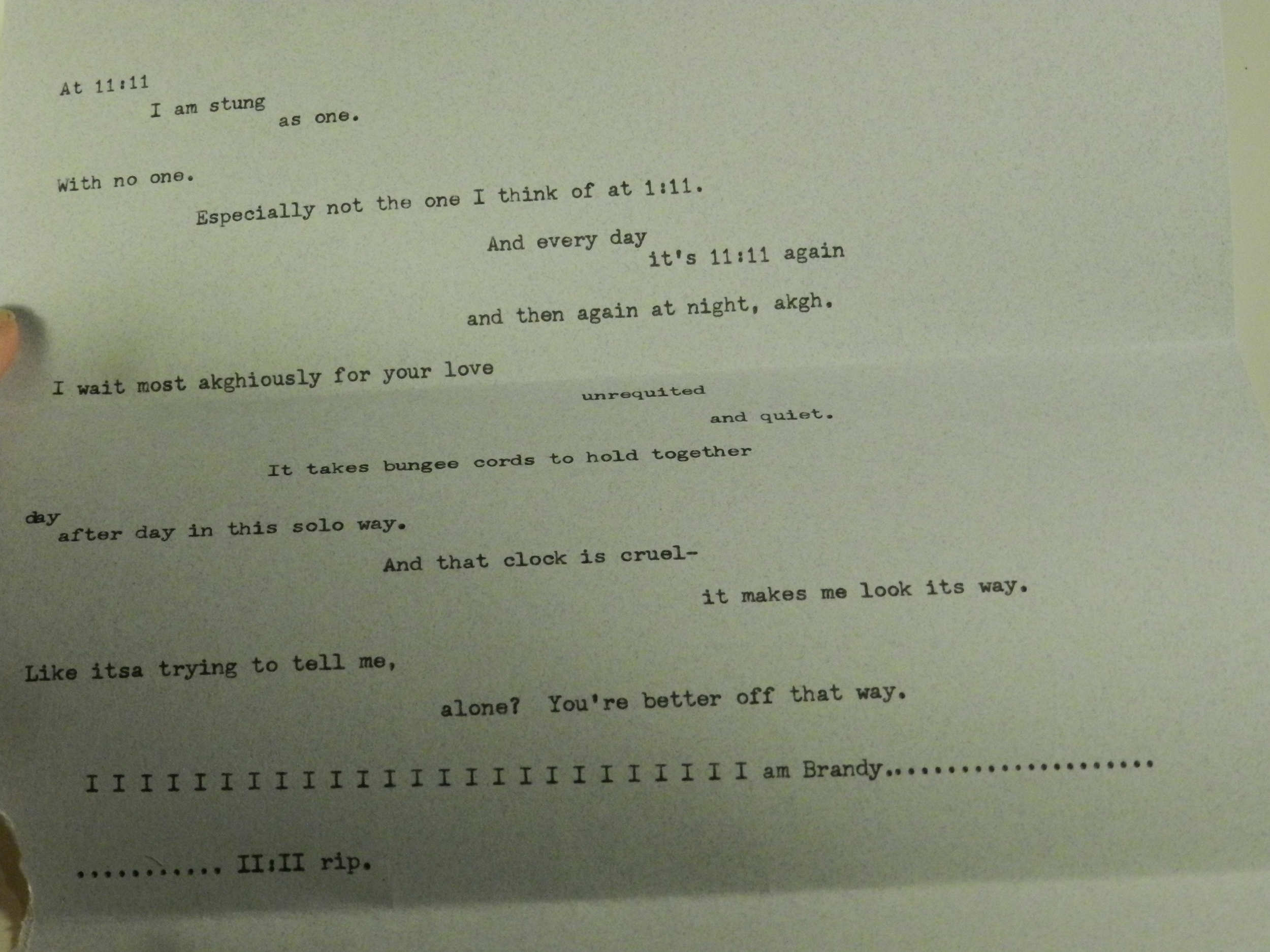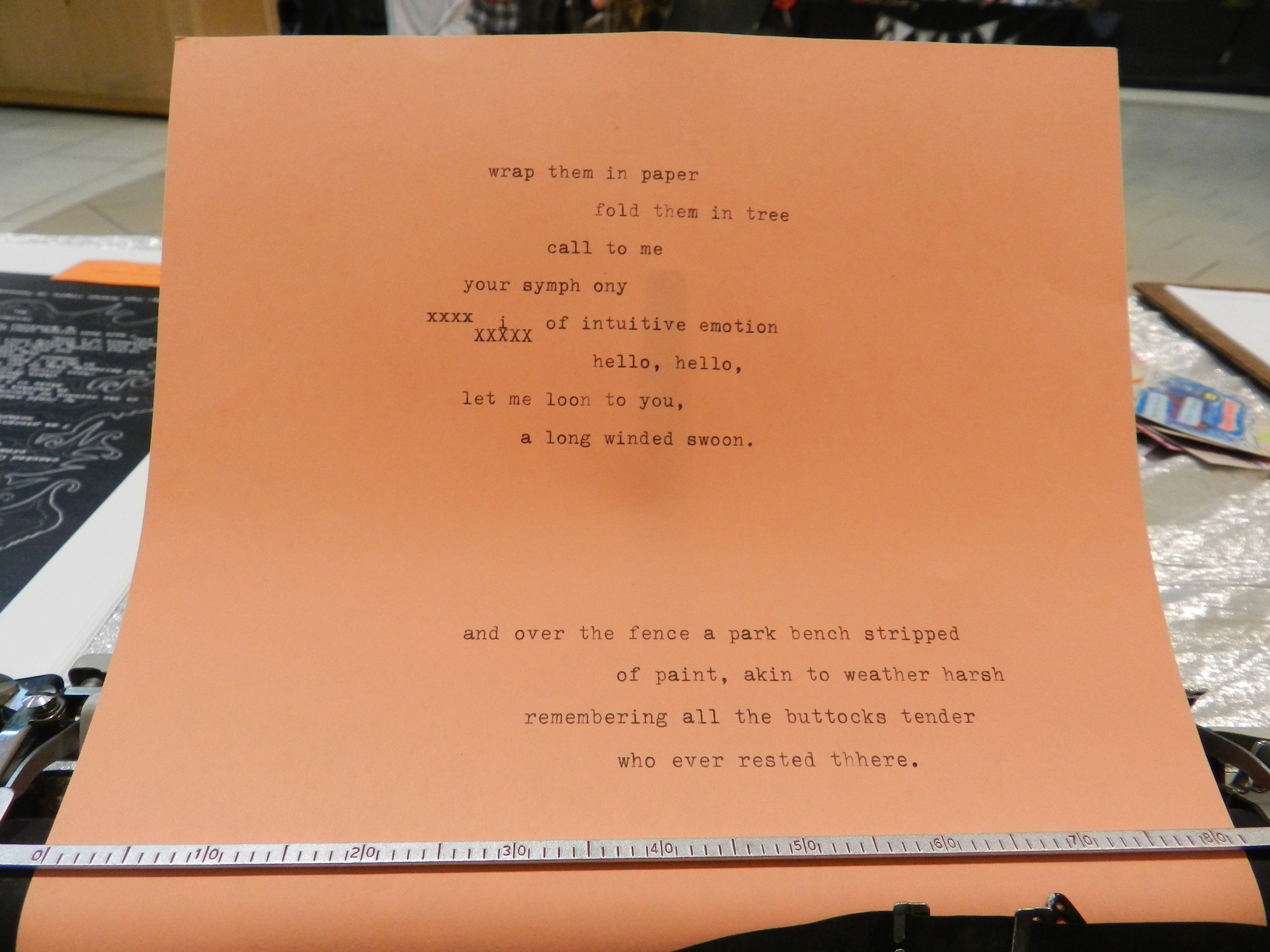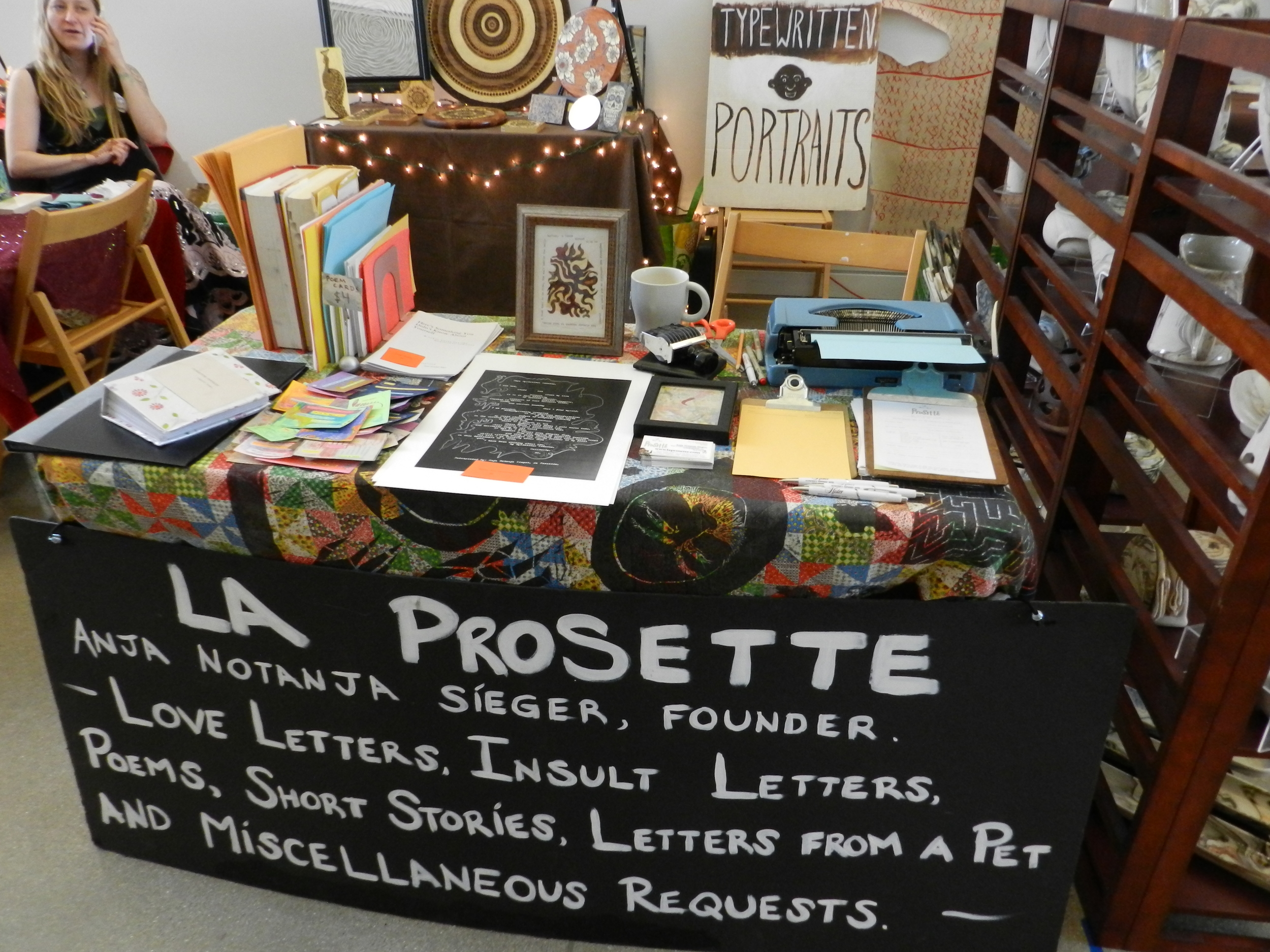 Petite Prosette In-the-Mail
"Always Tasteful, mostly true, I'll write letters on behalf of you!"
YOU decide who the piece is for and what the occasion is and La Prosette articulates the message. The Petite Prosette (prose-poetry-letter hybrid) will be delivered via the mail. The Petite Prosette typed by a typewriter.
Order one for yourself below...
A note: if your internet browser (internet explorer, safari, chrome, firefox, etc.) is very old, you will get a blank screen while ordering. If that happens you will need to either update, use a friend's computer or complain to notanja@gmail.com. La Prosette apologizes for the inconvenience this may cause customers with older browsers.
When did you start doing this?
A few months after I left my job at the puppet theater, I had 10 dollars to my name and a growling stomach. I picked up my nightstand, some paper and a pen and carried it all over to the nearest outdoor mall. I set up shop next to a brass sculpture of a hog and started singing "I can help you to express the feeeeelings you normally repress, poetry for sale, five dollars!" It was 100 degrees, but I got two customers. Afterwards I bought a tub of rocky road ice cream that I ate in its entirety, excluding only some of the cardboard it came in.
What is a Prosette?
A Prosette is a female prose poem hybrid species, occurring naturally in nature without genetic manipulation. It also probably means something in Portuguese, but I don't know Portuguese at this time.
Are your love letters lurid?
Rarely. The goal of my love letters is to foster more appreciation and love for whoever needs it, lovers, brothers, teachers, friends, acquaintances, et cetera. And I always keep in mind that someone's mom or neighborhood pastor will inevitably read it. Then again, I think if the reader is creative then they can turn any of my spurting fountains of love metaphors into something erotic in their sick, sick heads.
Can you write me a letter from my pet?
"Yeee-oeeeews!" – Widdle Kitty
What is up with the 'Radiowaves From Space' I see all over your website?
Radiowaves from space is a performance piece and art print series. For the performance I braid my hair and stick it straight up into an antennae. The antennae allows messages from space (in the form of radiowaves) to descend into my body and out of my fingers which type up the message. It's wisdom from Outer Space.
Do you still do this on the street?
Sometimes and I do a lot of art fairs.
What do you think of living in Midwestern America?
I love our inland sea, "Lake Michigan." I just wish they wouldn't dump vats of feces in it every time it rains. No joke.
Can I write you a letter?
Sure, send it to: La Prosette P.O. Box 320574 Franklin, WI 53132-0574 USA.
Still have questions? Email notanja@gmail.com